Djuna Mascall, E.R.Y.T. 500, is a rare teacher who illuminates the interconnectedness of the body, mind, and heart.
She gracefully integrates her extensive knowledge of anatomy, alignment, and the wisdom of yoga and the Dharma. She is a student and teacher at Spirit Rock and currently teaches their Dharma and Yoga Teacher Training.
Djuna is faculty for Prajna Yoga and her teaching is a reflection of thousands of hours spent studying within this lineage. Her offerings are rooted in mindfulness and the traditions of yoga and the Buddha Dharma.
She combines meditative practice and wisdom study with the power of asana training. The investigation of yoga postures and movement is designed to cultivate sensitivity and vitality, while supporting the body's capacity to heal. The poses are approached as vehicles of insight, inviting us to wake up through depth of knowledge and practice.
Djuna offers workshops and teacher trainings internationally, and annual retreats at Green Gulch and Tassajara. She is also a certified yoga therapist in private practice. Djuna graced the cover of Yoga Journal in October, 2012 and was featured the same year in their August issue.
Djuna's teaching is inspired by her connection to nature and the sea; she sailed across the Pacific in a small engine-less sailboat and is the first woman on record to circumnavigate the Kenai Peninsula in Alaska by kayak. She currently lives on Orcas Island, WA and teaches weekly classes at Orcas Mandala Yoga Studio.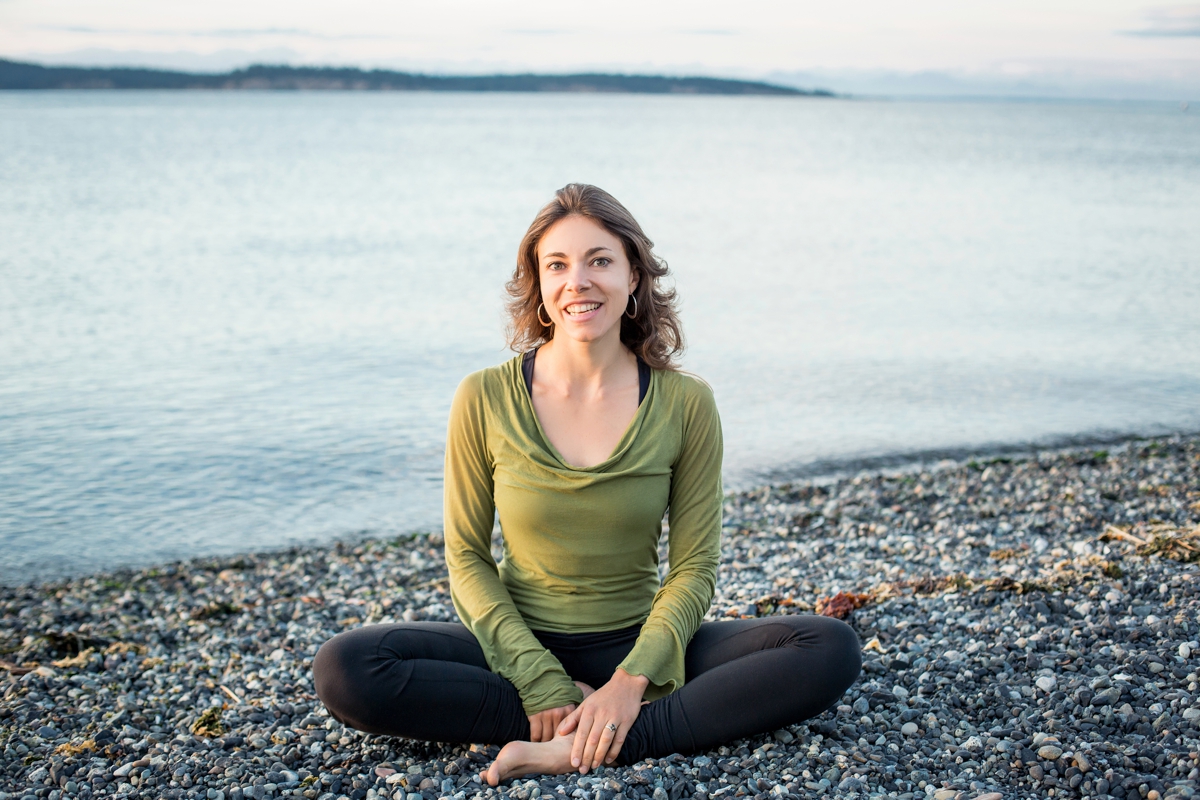 Djuna's story–
"My path in becoming a yoga teacher has been circuitous. I came to yoga in college and when I moved to Orcas I began teaching Ashtanga at a local farm to the interns and community members. I then found senior Iyengar teacher Felicity Green, and spent two years learning the basics of the asanas and how to teach them. Along the way, myself and three other yoga teachers opened a studio on Orcas.
I met Tias Little at a Yoga Journal Conference and knew immediately he was my true teacher. I found myself traveling to Santa Fe to study, running a yoga studio, working full time doing restaurant work, while building a cabin and homestead by hand with my husband. Early mornings found me chopping kindling then rolling up our futon so I would have space to practice, or listening to dharma talks while painting the cabin. In studying with Tias I found myself drawn into a deeper, more interior world, one that also connected me with others and nature. I began kayaking avidly and working for a kayaking school, and my yoga practice echoed the dynamism of the ocean and currents around Orcas Island, as well as the deep quiet of living in the woods. Teaching yoga wasn't something I considered as a career, but a container for all that I was experiencing both physically and internally.
After a few years of working so hard to teach, I left Orcas and landed in Marin and was quickly invited to teach at Tassajara, Esalen, and Green Gulch, as well as being on the cover of Yoga Journal. I taught regular classes at Yoga Mountain in Fairfax, CA and soon began co-teaching a training there.
Since then, I balance my life between teaching in our local Orcas Island community, in California, and abroad. I mentor with Tias and study Yoga Therapy with SarahJoy Marsh. I've also found mentorship in working with my dreams as a powerful way to delve into my unconscious.
Now, yoga is the foundation of all that I do. Every poem, novel, podcast, or moment of friendship somehow informs my practice and teaching. In the wider world, yoga has become another commodity, which is okay in it's own way, as long as people are practicing. However, my deepest wish is for all to experience yoga or integration as the deepest current in their lives."